IATF 16949:2016
Dyna-K Automotive Stampings Pvt. Ltd. has successfully achieved the certification under IATF 16949:2016, a technical specification for quality management systems in the automotive sector as set forth by the International Automotive Task Force (IATF).

Why IATF?: A Quality Management System (QMS) is a set of processes, policies, records, and documented procedures that lay out the internal rules under which a company produces and delivers its products and services to customers. The updated version of ISO/TS 16949, IATF 16949:2016 was published on October 3rd, 2016. It replaces the previous ISO/TS 16949 and sets forth the requirements for a QMS used by an organization within the automotive industry. This standard harmonizes the various certification systems and assessments in the world's automotive supply chain.

To download our IATF 16949:2016 certification, click on the certificates.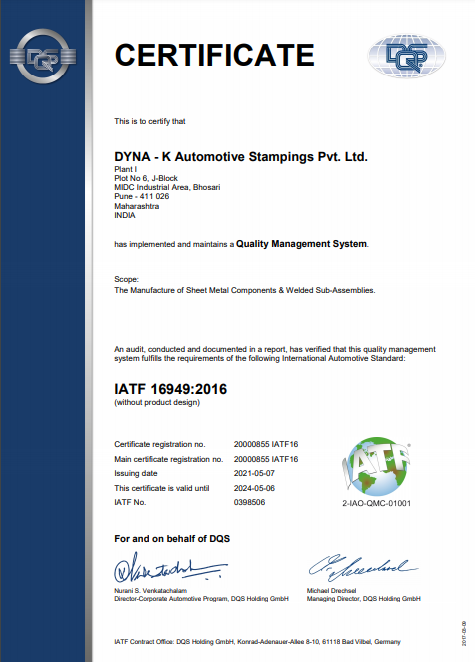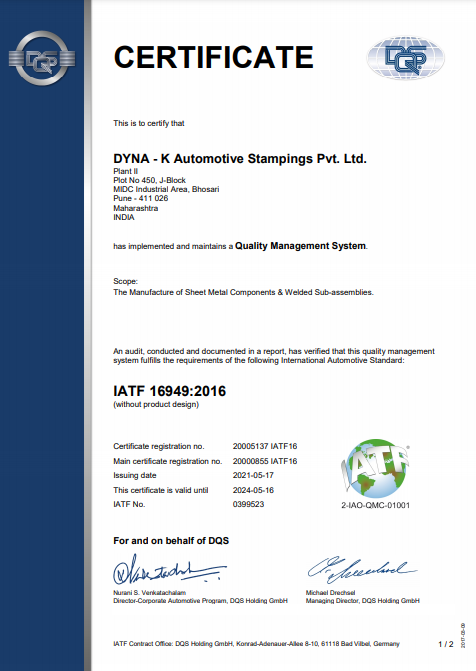 ISO 14001:2004 Environmental Management System standard
With Health, Safety and Environment among our top priorities, our objective is clear - to protect our employees, customers, surrounding neighbourhood and control impact on environment. Dyna-K is proud to announce that we are now certified compliant to the ISO 14001:2004 Environmental Management System standard

Environmental sustainability is an ongoing challenge we face as a global community. The modern business environment requires an increased awareness of the environmental impact caused by industry operations. The ISO 14001 certification demonstrates a commitment to continual improvement of business processes with a view of achieving environmentally responsible practices and world's best practice.